Pupil Parliament
Pupil Parliament
The Pupil Parliament at Connaught Junior School forms an essential part of our school. We believe in children having a say in how the school is run and being a part of the decision making. It also gives the children an experience of democracy in how they are voted in by their peers, and how they consult with and seek the opinions of the children in their classes on the current issues affecting the school.
The Connaught Pupil Parliament is made up of 4 councils; Learning, Friendship, Eco and Safety. We believe that these cover the areas that affect our children most directly. There is a council representative for each council from every class, years 3 to 6. At Connaught Junior School we strongly value the development of leadership and responsibility in young children and the children never fail to take their roles very seriously. They represent the children of Connaught Junior School and make sure their voices are heard!
Pupil Parliament Council reps for 2018-19
| | Eco | Safety | Friendship | Learning |
| --- | --- | --- | --- | --- |
| Matterhorn | Elisa | Darcie | Samuel | Aidan |
| Olympus | Elizabeth | George | Felix | Jessica |
| Snowdon | Aoife | Sienna | Megan | Pippa |
| Eiger | Eleanor | Joshua | Isabella | Katherine |
| Mikeno | Sophie | Lucy | Thomas | Frankie |
| Meru | Nicolas | Olivia | Alex | Elizabeth |
| Kilimanjaro | Hayden | Sophie | Jessica | Pippa |
| Stanley | Ella | Scarlet | Gracie | Holly |
| Salcantay | Harry | Daniel | Seb | Daniel |
| Denali | Bo | Thomas | Sienna | Joshua |
| Rainier | Owen | Aahan | Evie | Charlotte |
| Cotopaxi | Christian | Joshua | Harley | Chloe |
| Everest | Ben | Oliver | Megan | Scarlett |
| Fuji | Daisy | Ollie | Emily | Daniel |
| Annapurna | Leah | Luke | Lucy | Necia |
| Elbrus | Isabelle | George | Taylor | Mariella |
Friendship Council
The Friendship Council continues to focus in making playtimes more harmonious and productive. They have been talking with their classes about what they like/don't like about playtimes. Money raised through a sponsored sporting event will be used to buy playtime equipment to help promote the children's teamwork and collaboration skills. Friendship Buddies look out for children who seem lonely or need assistance. The Friendship Council have also worked with our Sports Captains who lead games at lunchtimes.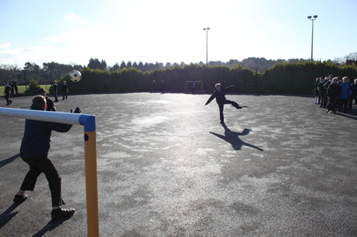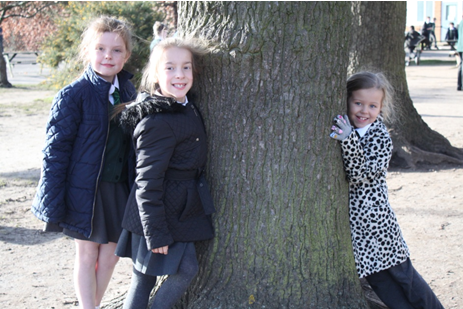 Learning Council
The Learning Council is looking into what Connaught children think good learning looks like and are asking their classes the question: 'What should an ideal Connaught child be like?' This will create a display called A Connaught Child is.... so that all children, parents and visitors to the school can see what we value in terms of attitudes and learning.
Eco Council
The Eco Council is working on the outside environment, particularly the garden area. They have written to Mr Sales asking for permission to revamp this area and will design it and hopefully fund it through liaison with local businesses. They have also hung bird boxes around the grounds to provide homes for birds.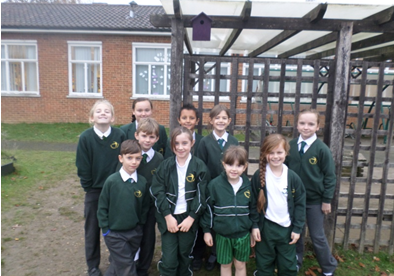 Safety Council
The Safety Council has been touring the school grounds and discussing areas that could be improved and where children feel safe and don't feel safe. They have also looked at our expansion project and considered how they can help keep the children safe whilst this is going on.
Surrey Heath Junior Council
Members of the Year 6 Friendship Council are also on the Surrey Heath Junior Council. This involves regularly meeting children from other Surrey Heath schools, learning from each other and discussing common issues. They recently took part in a Google hangouts call to a Youth Council in Sucy-En-Brie in France and Councillor Morley came to observe too. Our children have been inspired by the French community projects and are planning to get involved in some of their own community projects in the near future. The children also met Mayor Bob Patton and received a certificate for taking part in the video call.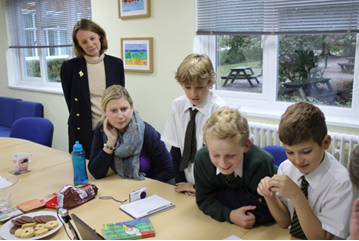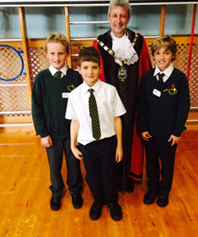 Links with other schools
In the Autumn Term children from the Pupil Parliament were offered the opportunity of working with Drama specialists from St Georges Secondary School in Ascot. They created and performed a play in assembly about friendship, loneliness and belonging. It was a wonderful experience for all!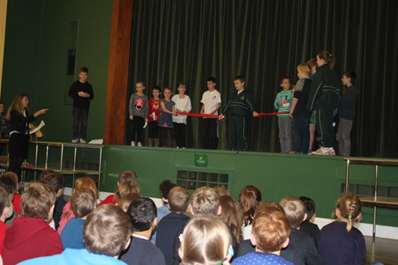 Latest Pupil Parliament News
Members of the Pupil Parliament in Year 5 and 6 had a meeting with Surrey County Councillor Mike Goodman in January. He heard all about the projects the children are currently working on and issues that affect them. The subject that created the most discussion was traffic outside school and how people are driving up to the school gates in the morning despite being asked not to! One or two of the children described near misses and Mr Goodman promised to look into it.