PSHE
What is it?
PSHE stands for Personal, Social, Health and Economic Education. During Key Stage 2 at Connaught Junior School, pupils learn about themselves as growing and changing individuals with their own experiences and ideas, and as members of wider communities.
They learn about the world and the interdependence of communities within it. They develop their sense of British values, social justice and moral responsibility and begin to understand that their own choices and behaviour can affect local, national or global issues and political and social institutions. Children also learn how to take part more fully in school and community activities. This is all part of them becoming more mature, independent and confident.
As children begin to develop into young adults, especially in Year 6, they face the changes of puberty and transfer to secondary school with support and encouragement from school and parents. They learn how to make more confident and informed choices about their health and environment; to take more responsibility, individually and as a group, for their own learning; and to resist bullying and develop the qualities and attributes they need to thrive as individuals, family members and members of society.
The benefits to pupils of such an approach are numerous as PSHE prepares them to manage many ofthe most critical opportunities, challenges and responsibilities they will face growing upin such rapidly changing and challenging times. It also helps them to connect and apply the knowledge and understanding they learn in all subjects to practical, real-life situations while helping them to feel safe and secure enough to fulfil their academic potential.
Core Values
The children, staff and parents of Connaught Junior School chose our 3 core values of being Confident, Committed and Caring. These values are displayed in every room in the school and form the basis of our school and its identity.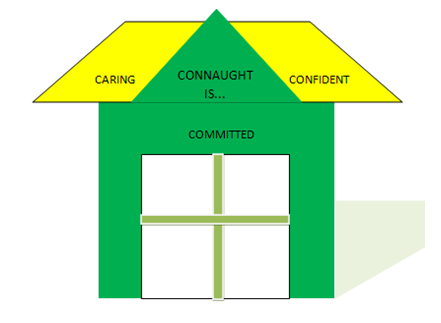 The Connaught PSHE Curriculum
At Connaught Junior School we approach the PSHE curriculum in a number of ways:
Theme Overviews
On our theme overviews you will find 4 drivers of our curriculum: Wellbeing, Communities, Enterprise and Global Citizens.
Please see cross-curricular links below for more details.
Assemblies
Monday - The theme for the week is set by the Headteacher
Tuesday – An assembly on the theme is led by our AHT
Wednesday – An assembly on the theme is led by out DHT.
Thursday – Our singing assembly is led by our specialist music teacher where the children learn and sing songs based on the theme of the week.
Friday – Our celebration assembly revisits the theme of the week and the children who have been noticed for working towards the theme are celebrated.
Here are some of the themes we have covered so far this year: Resilience, Goals/Aiming High, Thinking for Yourself, Responsibility, Challenges, Success, Solving Problems, Connaught Values, Growth Mindset.
BLP and Independence in Learning
BLP (Building Learning Power) and Independence in Learning focuses on the children's learning behaviours, and the development of their intrinsic motivation and love of learning and their ability to work increasingly independently with the facilitation of the class teacher.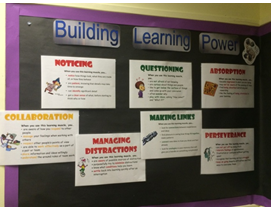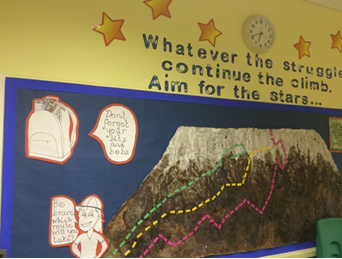 SRE across the school
Children across the school take part in lessons about Sex and Relationships. The aim of SRE is to provide knowledge and understanding of how the human body changes during puberty and the processes of human reproduction within the context of relationships based on love and respect. It develops pupils' understanding and attitudes regarding these complex issues, enabling them go on to form relationships in a responsible and healthy manner and to appreciate the value of stable family life, including the responsibilities of parenthood and marriage.
Please see the SRE curriculum objectives below:
Year 3
Knowing that we are growing and changing
Being able to feel good about ourselves.
Know that we are growing and changing
Know the names for parts of the body
Know the difference between males and females
looking forward to growing up
Being able to feel good about ourselves.
Year 4
Know about changes in my body and how others are changing.
Feeling positive about growing up.
Know about changes in my body and the necessity for personal hygiene.
Manage associated hygiene.
Being able to feel good about helping others
Understand how to make friends
Understand and recognise how our behaviour affects others.
Year 5
Know how children develop from birth onwards
How to cope with new feelings about growing up
Be able to respect other people's feelings
Be able to respect differences between people
Be able to empathise, listen and support others
Year 6
Know and discuss what the word 'relationship' means.
Discuss how many expect to have a boyfriend or girlfriend in the future.
When it is appropriate to start going out with someone – what does 'going out' actually mean?
How have you changed since being a baby? Physically/emotionally?
Exploring Female Puberty
Exploring Male Puberty
How babies are made and born
Please follow the link below for more information in the recently published 'Sex and Relationships Education for the 21st Century.'
http://www.pshe-association.org.uk/uploads/media/17/7910.pdf
Cross Curricular Links
PSHE education is not taught in isolation, but as part of our Connaught Creative Curriculum, with strong links to other relevant subjects to ensure consistency and continuity for pupils.
At Connaught Junior School we extend the DfE recommendations of the 3 Core Themes of Health and Wellbeing, Relationships and Living in the Wider World with our 4 drivers of Wellbeing, Communities, Enterprise and Global Citizens.
These run throughout the Connaught Curriculum. Examples of how they relate to our curriculum can be found on the Theme Overviews that are sent out to parents with the curriculum letter from teachers and published half-termly on our website.
Pupil Parliament and Pupil Voice
Pupil Parliament
Pupil Parliament has huge esteem attached to it, with formal meetings led by the children and facilitated by the staff. One of the first jobs is to elect a Chair person, a vice-chair and a secretary and it has been essential that early on the children are seen to be in charge and working towards making long term changes to the school. Meetings typically happen every half term with the children taking away work to do with their classes, eg. surveys, or discussions to generate ideas for a project.
Pupil Parliament minutes are displayed on the Pupil Parliament board for all to see. The impact of this is that the children feel listened to and can see real changes come about as a result of consultation of council reps with classes. It is given a huge profile in the school with two boards, one showing photos of the reps and the other showing the minutes of the meetings.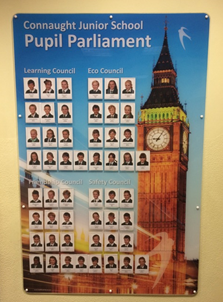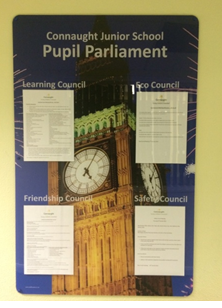 Pupil Voice
Read and Respond
Effective marking and feedback has the biggest effect on pupils' attainment, with teachers allowing the children time to enter into a useful dialogue in the books about their work. The children at Connaught Junior School are encouraged to read and respond to their teacher's marking to help them move their learning on.
WOW Days/Topic Launches
A Philosophy for Children (P4C) approach is used across the school in the form of Wonder Walls and WOW days to launch new curriculum themes, allowing the children time to consider where they would like to take their own learning. This form of child led enquiry at the beginning of a unit of work guides our teachers in adapting their planning to meet the needs of the children and gives the children ownership which, in turn, increases their engagement.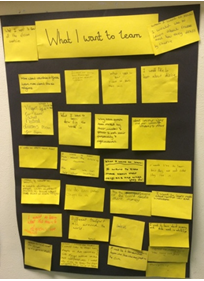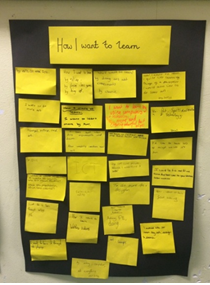 Weekly Pupil Conferencing
In addition to read and respond, pupil conferencing has a huge impact on children's learning and provides opportunities for teachers and children to spend valuable time working on specific targets identified by assessment in a small group or one to one situation.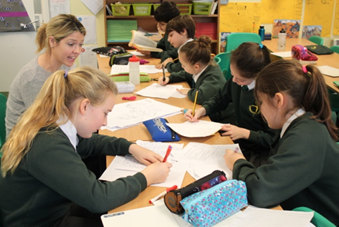 Sports Captains
The Sports Captains' role in the promotion of the Spirit of the Games values keeps the profile high, running alongside Connaught's core values and the BLP muscles already embedded. Sports Captains also run sports activities at playtimes to encourage team work and collaboration.