Year 3
This is the timetable that we have put together for the children to follow whilst at home.
The plan is these videos will remain on this site for two weeks, after which time they will be removed.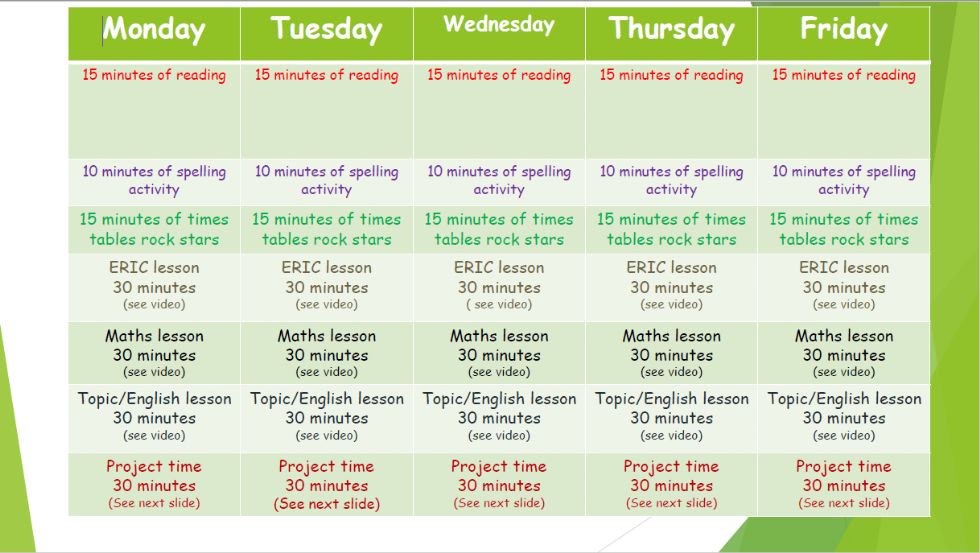 Summer 2 Week 6
Eric
These videos were initially created for Week 5 so the videos contain the wrong Week numbers and dates! I am sorry for any inconvenience and confusion that this might cause.
Lesson One
Lesson Two
Lesson Three
Lesson Four
Lesson Five
Maths
Lesson One
Lesson Two
Lesson Three
Lesson Four
Lesson Five
English/Topic
Lesson One
Lesson Two
Lesson Three
Lesson Four
Lesson Five
Summer 2 Week 7
Eric
Lesson One
Lesson Two
Lesson Three
Lesson Four
Lesson Five
Maths
Lesson One
Lesson Two
Lesson Three
Lesson Four
Lesson Five
English/Topic
Lesson One
Lesson Two
Lesson Three
Lesson Four
Lesson Five