The Leader in Me
Intent
The Leader in Me programme for children is one of self awareness and improvement. It is based on the 7 Habits of Highly Effective People by Stephen Covey and aims to teach children life lessons to take forward into their secondary education and beyond.
Implementation
At Connaught Junior School, the 7 Habits, their principles and language, are promoted in a number of ways.
Weekly themes
Assemblies
The School Environment
Leader in Me Captains
The 7 Habits are:
1. Be proactive
2. Begin with the end in mind
3. Put first things first
4. Think Win Win
5. Seek first to understand, then to be understood
6. Synergise
7. Sharpen the Saw
The 7 Habits Tree is displayed in every classroom.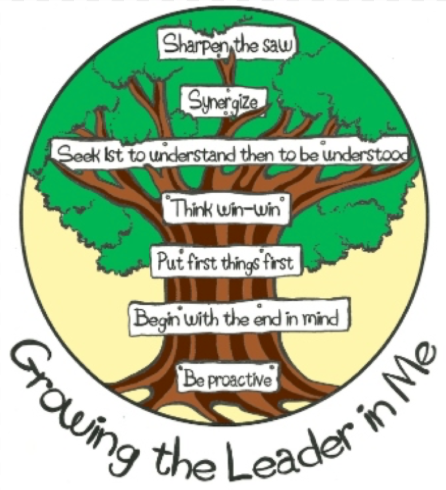 The classroom doors are decorated to welcome the children in and also to ensure that the Leader in Me Habits are very much promoted in the school environment.
Impact
The children learn to:
Focus and act on what can be controlled and influenced, instead of what cannot.
Define clear measures of success for both life and work and create a plan to achieve them.
Prioritise and achieve the most important goals instead of reacting to urgencies.
Develop innovative solutions that leverage diversity and satisfy all key stakeholders.
Collaborate more effectively with others by building high-trust relationships.