Safeguarding
At Connaught Junior School, we understand that safeguarding is everyone's responsibility. Through our training, all staff are aware that a safeguarding incident could happen here. All members of staff, including teaching, support staff and club providers receive annual safeguarding training either at Connaught Junior School or through their own organisation.
This overview covers all the statutory areas as detailed in the DFE document, 'Keeping Children Safe in Education' (updated September 2021) – including the Prevent Strategy, FGM and Child Sexual Exploitation.
Mrs Katherine Saunders is our Designated Safeguarding Lead (DSL) having received all of the required training. She also attends regular training to keep up to date with any issues relating to child protection and safeguarding. Additional weekly updates are received from Andrew Hall, a specialist safeguarding consultant and the NSPCC. These are then disseminated to relevant members of staff. Any training updates that staff may require will be delivered by the DSL. Connaught has incredibly tight procedures, which have been audited and approved by external providers, ensuring that our children and staff are safe. We work with an array of agencies including Children's Services, Family support, the School Nurse and the Police. Miss McGann, Mrs Littlewood and Mrs Staniforth are the Deputy DSL and support Mrs Katherine Saunders in the leadership and management of Safeguarding.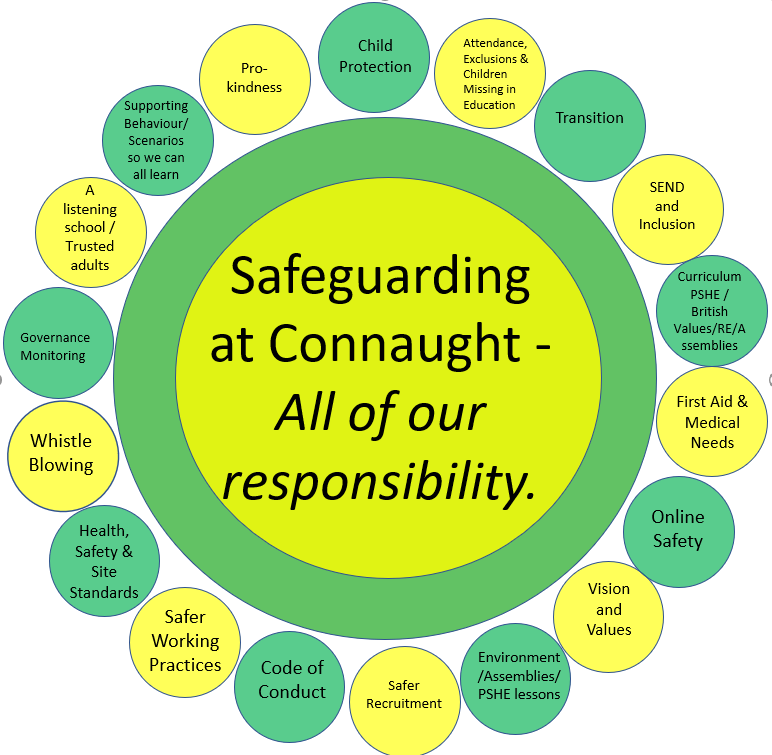 Governors
The 'Safeguarding governors' ensure an effective understanding of safeguarding and how it's implemented within a school setting. They understand both the requirements and the government legislation.
The Governors at Connaught Junior School who monitor safeguarding are Fiona Torley and Hannah Taylor.
The governors responsible for ensuring that the school's safeguarding policies, procedures and training are always effective and comply with the law. The governing board has a strategic leadership responsibility for the school's safeguarding arrangements, ensuring that they comply with their duties under legislation.
The safeguarding governors ensure ensure that the DSL (Mrs Katherine Saunders) takes leadership responsibility for the school's safeguarding arrangements.
The governors have relevant and up-to-date knowledge and experience of safeguarding at Connaught and has access to the appropriate training.
The child protection and safeguarding governors (Fiona Torley and Hannah Taylor) develop and maintain an awareness of safeguarding policies and processes in the school on behalf of the governing board, ensuring that Connaught develops and maintains a culture of 'it could happen here', and be certain that all staff understand their responsibilities relating to safeguarding pupils and reporting concerns.
The 'Safeguarding Governors' act as a link between the governing board, headteacher and DSL, reporting back to the board on their monitoring activities and the school's compliance with KCSIE which occurs in termly Governor meetings.
In the termly monitoring that the governors complete, they fill out a Portfolio Report which is shared with the Headteacher and Governors. In this report they monitor:

Staff Understanding of Safeguarding
Children's understanding of keeping safe
Picture of safeguarding across the academy
Behaviour
Health and Safety

During these meetings, the governors offer challenge and support resulting in safeguarding being of high quality.
Training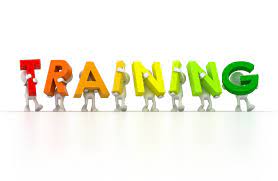 Within our school, training is delivered regularly to ensure all of our staff have the most up-to-date information and knowledge to ensure our children are safe. Training is not only provided for our staff but also our volunteers who visit our school regularly.
Staff Training
At the beginning of each academic year, all staff complete safeguarding training with the DSL covering all aspects of safeguarding. Safeguarding training breaks down the appropriate courses of action to take, empowering your staff by giving them the skills and knowledge they need in order to appropriately report abuse and neglect. As well as this, they have to read the following documents:
Keeping Children Safe in Education 2021
The Safeguary Policy
Working together to safeguard children
What to do you if you are worried a child is being abused
Staff Code of Conduct
Whistle Blowing Policy
E-Safety Policy
Staff Acceptable Use Policy
Behaviour Policy
Each week, the staff receive a 7 minute briefing training
Recruitment Procedures
Connaught adheres to the Safer Recruitment directive and members of the SLT and governors have completed regular safer recruitment training. All members of our school staff have an enhanced DBS (Disclosure and Barring Service) check in order to be able to work within school. This is regardless of the employee's role. Teachers, classroom assistants, admin staff, cleaners and caterers must all be checked.
Additionally, all volunteers and anyone else who has regular contact with our children are checked too. DBS certificates are documented on our Single Central Record, a legal requirement, which is checked and signed off on a regular basis by a safeguarding governor, an Ofsted precondition. Visitors to the school must either provide their own DBS on arrival, or be a member of a professional body who routinely DBS check their employees or associates. These include OFSTED inspectors and Local Authority staff. Any one-off visitor, should provide their own DBS. All visitors and volunteers are required to read Connaught's safeguarding procedures and those without a DBS to be accompanied by a member of staff at all times during their visit.
Awareness of our policies also applies to parents who make themselves available to go on school trips or provide lifts to sporting/cultural events. All visitors to the school must 'sign-in' at reception and be given a visitors badge for ease of identification by members of staff. Parents who wish to assist in school are interviewed by a member of the Senior Leadership Team (SLT), using the same Safer Recruitment criteria as applied to permanent staff. They are also required to receive safeguarding training which is delivered by the DSL.
All external club providers must provide proof that they also adhere to Safer Recruitment and DBS checking.
Risk Assessments
All areas of Connaught's site undergo a biannual risk assessment by the school's qualified risk assessor. This means that whist we cannot remove risk, we can demonstrate that we have looked at ways of minimising that risk. These risk assessments are undertaken on areas such as classrooms, halls, the playground and the car park. Our SLT, Heads of Year and teachers carry out risk assessments for all school trips, including our annual Year 6 residential stays. These are in accordance with Surrey CC guidelines.
Security
Access to the campus, both for vehicles and pedestrians, is via security gates with a video link to the office. Staff have access to the gates by key fob. Visitors can only gain access by gate release authorised by Office staff. Access to the external doors where we have classrooms are by a key fob. All fire exits are either twist lock or bar push exits. Additional locks have been added to main entry doors for use in the event of a 'lock-down'. Partial and full lock-downs are practised in accordance with the Connaught Lock-Down/Sheltering in Place Policy document.
Equality
The school has an Equality policy that monitors any possible discrimination in the school in relation to any of the nine protected characteristics (Equality Act 2010). The School also makes annual returns on any racist incidents.
Childrens' Support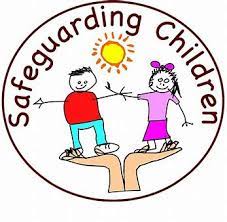 Regular dialogue with pupils in class or assemblies, educate and enforce safeguarding. Children know who they can go to as 'trusted adults', should they have any worries or concerns. Every week the children are presented with a scenario enabling them to reflect on how they would manage different situations. Examples are:
You are in the playground and a friend shares something with you that makes you feel uncomfortable. What are the risks, and what do you do?
In class a friend tells you that they have been on a website and seen something which they know they shouldn't have seen, They are now worrying about it. What are the risks, and what do you do?
On the way to school, you see a peer walking the wrong way away from school, and they are crying. They are by themselves. What are the risks, and what do you do?
You are on a group chat with your friends and someone is being very unkind to someone else. What are the risks, and what do you do?
Each week, the children have an assembly about different topics including
Spring
Theme

Strange Danger

Railway Safety

Mental Wellbeing

Cyber Bullying

Safer Internet Day

Asthma

Road Safety

Young Carers

Anaphylaxis
Summer
Theme

Asthma Awareness

Mental Health Awareness

Race Unity Week

Child Safety Week

Healthy Eating Week

Deaf Awareness Week
Outside agencies are invited to come into school to talk about safety issues relevant to this area:
Road safety
Rail Safety
Personal safety
Young Carers
The School Nurse
Bike Safety - During the course of years 4 and 5, pupils have the opportunity to participate in Surrey CC's 'Bikeability' courses to learn good practise when on the roads.
We also use NSPCC assemblies to teach the children about how to keep themselves safe
We have also shared the Pamtpsaurus video with the children reminding them how to keep themselves safe.