Music
Music at Connaught Junior School
As part of our commitment to developing the whole child at Connaught Junior School we enhance the children's musical ability with specialist provision. We are extremely well resourced and are lucky enough to have a music room in which the children take their fortnightly lessons. The topics are closely linked to our Creative Curriculum.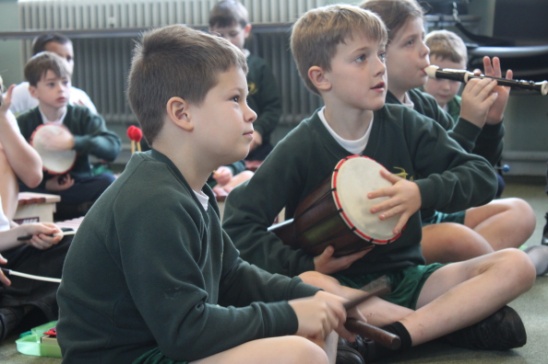 The Music Curriculum
Music lessons at Connaught Junior School are of a very high standard Please see below an overview of the music covered.
Year 3
Autumn - An introduction to Pulse and Rhythm
Sing songs with strong rhythmic patterns. Understand difference between pulse and rhythm. Read, understand and perform simple music notation (crotchets, minims, quavers and crotchet rests) using the Kodaly system of ta and te-tes. Understand and use new music vocabulary. Learn the names of the percussion instruments in school and how to play them and use cups to demonstrate rhythm patterns.
Spring - Romans
Learn to sing a song, 'Just Like A Roman'. Continue with their understanding of note duration and read and play 4 beat rhythms. Learn and perform rhythmic accompaniment on untuned percussion. Build up performance of 'Just Like a Roman' with rhythmic accompaniment, developing an understanding of what texture is in music. Evaluate their own performance and that of others and consider ways to improve performance. Perform to an audience.
Summer - The Living Rainforest
Revise notation learnt last term and write simple music notation. Continue to perform rhythms with cups. Learn about the various dynamics, their Italian names and how their symbols show in written music. Listen to rainforest sounds and consider how to portray them on instruments. In groups write their own simple graphic score using symbols to represent rainforest sounds. Include dynamics. Practise compositions and evaluate success. Make changes as necessary. Perform to the rest of the class.
Year 4
Autumn - Pulse, Rhythm and Pitch and Volcano Song
Revise their understanding of pulse and rhythm and the note durations of crotchets, quavers and minims using rhymes, songs and games. Listen to a Volcano Song and learn the chorus. Find the notes on tuned percussion, such as xylophones and chime bars. Learn how to play the melody of the chorus on these instruments. Get into groups and devise a performance of the song, adding rhythmic ostinati as accompaniment on untuned percussion. Practise, perform and evaluate.
Spring - The Tudors
Revise simple music notation. Listen to Tudor music and learn about instruments of the period. Compare two versions of the Tudor dance, La Volta. Look at how notes are placed on the stave to indicate their pitch and learn mnemonics to remember them. Learn to play La Volta on tuned instruments. Write some 3 beat rhythms to accompany the La Volta melody on untuned percussion. Practise, perform and evaluate.
Summer - Ancient Egyptians
Learn to sing the song 'Amazing Egyptians' in unison and in harmony. Consider clear articulation, expression, dynamics and mood, maintaining own part and keeping in time with others. Add 4/4 accompaniment on percussion. Practise, perform and evaluate success.
Year 5
Autumn - Space
Listen to G.Holst's 'The Planet Suite'. Compare features of his 'Mars' and 'Venus'. Revise the length of notes (duration) and learn about time signatures. Read and write rhythms in 5/4 time. Consider the musical element, 'structure'. In groups, write their own Space compositions in rondo form, to include a count-down, lift-off, rocket theme (that keeps recurring), and two contrasting planets based on 'Mars' and 'Venus'. Practise, evaluate, make necessary changes and perform. Some groups perform to the whole school.
Spring - Music of China
Listen to music from China and find out about their musical instruments. Learn about the pentatonic scale – often used in Chinese music. Improvise melodies using the pentatonic scale in C major on tuned instruments and put together to form Chinese-sounding music in various textures. Learn to play the melody, 'Lantern Song' using the notes of the C major pentatonic scale and one-bar melodies to accompany it. Play a set of one-bar melodies in various orders and discuss differing structures. In groups, arrange their own performance of 'Lantern Song' using the one-bar melodies to accompany it. Practise, evaluate, make necessary changes and perform.
Summer - Rivers
Listen to and analyse river and water music. Read, understand and perform rhythms in 6/8 time. In groups create their own River composition inspired by Smetana's 'Vltava' from his 'Ma Vlast' suite. In it depict a river flowing from the source to the sea, using a melody in 6/8 time, creating a crescendo as it does so. It should pass a variety of scenes, illustrated by differing instruments with ranges of dynamics. Practise, evaluate, make necessary changes and perform. Some groups perform to the whole school.
Year 6
Autumn - Champions for Change - Victorians
Revise the lengths of notes and position of notes on the stave. Read and perform a simple street cry on tuned percussion. Write words of own street cry and lay down its rhythm in either 2/4, 3/4, 4/4 or 6/8 time. Go to a tuned instrument and change the rhythm to a melody. Write the melody of the street cry on a stave. Play on tuned percussion and add rhythmic accompaniment. Practise, evaluate, make necessary changes and perform. Some groups perform to the whole school.
Spring - Song Structure
Continue to revise lengths of notes and read and perform rhythms. Listen to a variety of songs with different structures. Learn about the various structures in music, such as binary, ternary and rondo. Discuss the features of songs – introduction, chorus, verse, bridge, instrumental break, key, chord progression, lyrics, style and so on and develop an understanding of what these mean. Pick out these features in each song. Learn what makes a chorus catchy, the different way lyrics are written and how to write a song.
Summer – Onwards and Upwards – Writing A Leavers' Song
In pairs or in a small group, write the lyrics of a catchy chorus of a leavers' song. Work out its rhythm and then compose a melody for it using tuned instruments. Develop it further by writing the lyrics and melody of one or two verses. Extension for some – write the chord progression to accompany it.
Practise and perform the song, evaluating its success. Perform to an audience. Some groups perform to the whole school.
Performance
The children have a wide variety of instruments to choose from and ample opportunities to compose and perform their own music. Their learning is often shared in celebration assembly.
Children also have the opportunity to learn an instrument and, at the time of writing, around one hundred and twenty children learn an instrument in school. These include piano, guitar, drums, violin, flute, clarinet, cornet and tenor horn. At the end of each year we have a summer concert, in which the children have an opportunity to perform to an audience of parents and friends, if they wish.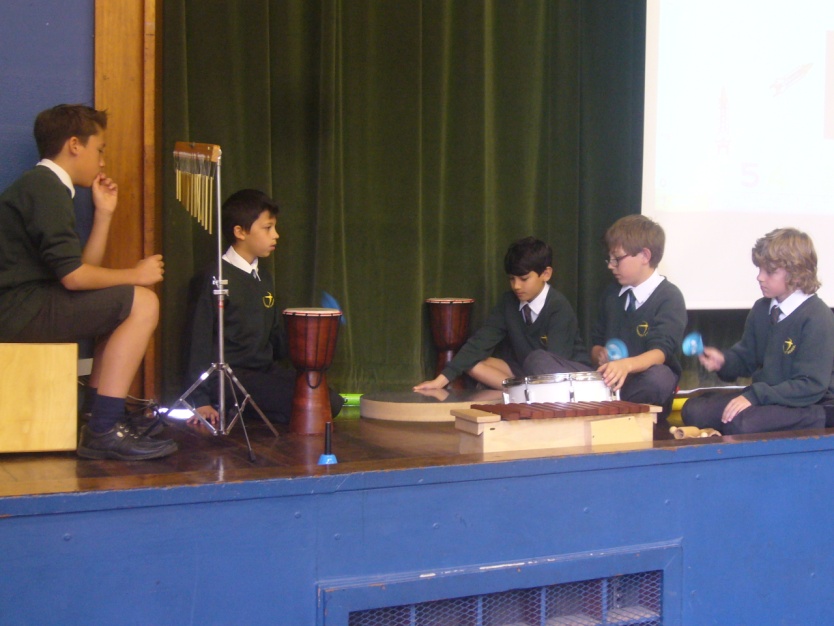 Year 6 boys performing on the stage in assembly for the school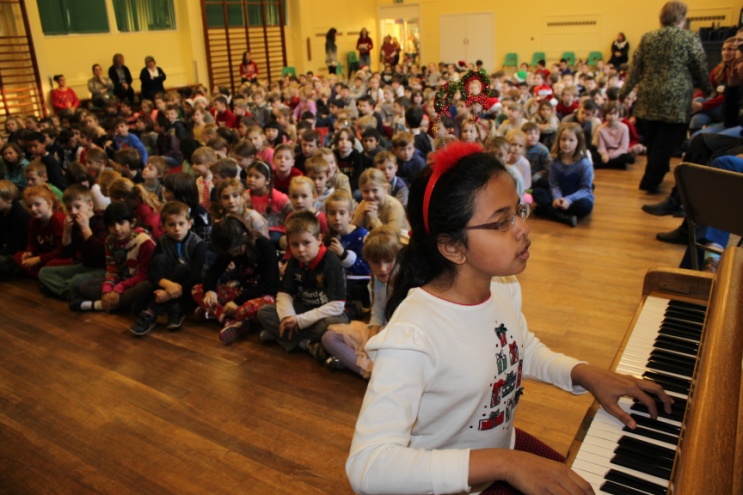 Shayna playing the piano in assembly during a mufti day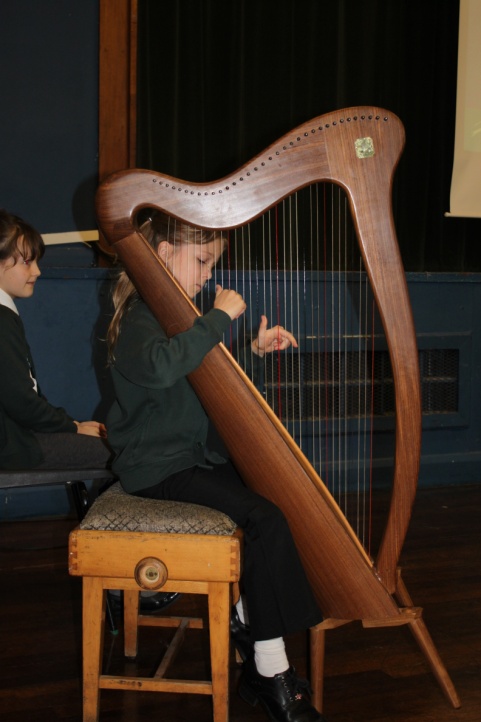 Rosie performing on the harp for the school in assembly
The Connaught Choir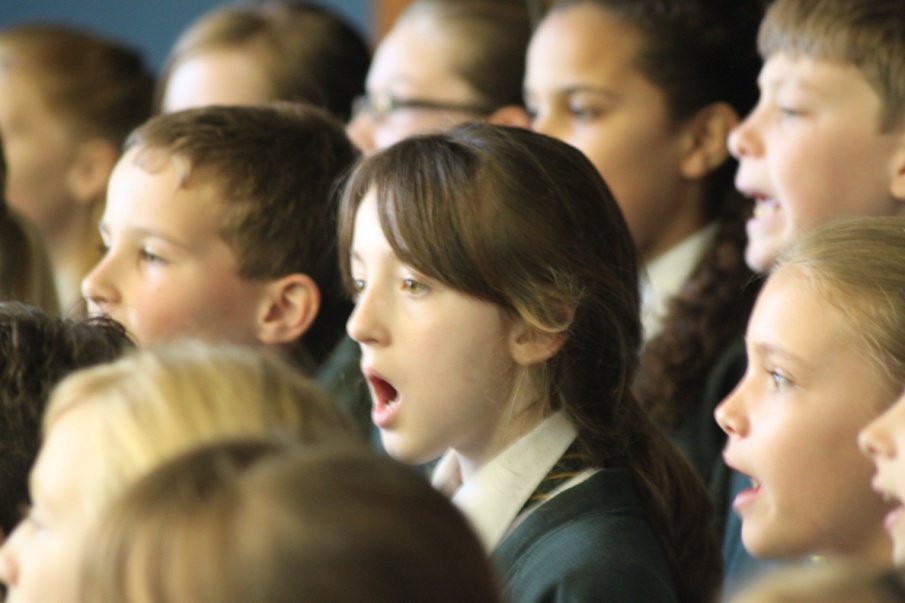 Connaught's school choir is open to children from all year groups and they practise after school on a
Tuesday. The choir are often heard singing in assembly and they also perform at several events
throughout the year.
At Christmas they perform various Christmas songs and carols in our annual Christmas Carol Concert,
which this school year, December 2017, was performed in St Anne's Church in Bagshot. The children
sang in unison and in harmony with many solos and duets. They also enjoyed one afternoon at
Collingwood Grange Care Home where they sang Christmas songs to the residents there.
In June 2017 the choir was involved in the North Surrey's Primary Schools' Music Festival, which took
place at the Princes Hall in Aldershot. They sang the work, 'Jake and the Right Genie' by Richard and
Thomas Allain, along with several other local schools and were noted for their great enthusiasm and
for how well they had learnt the songs. Three children were even selected to sing as part of a spur-
of-the- moment quartet in front of the parents in the evening performance. The choir are looking
forward to being involved in the festival this coming June, where they will be singing 'Go Lightnings
Vikings' created by the same composers as last year's work.
The Connaught Summer Concert
Every summer the children at Connaught can take part in an evening event in which they can play their own instrument, whether it is the harp, guitar, trumpet or drums. It is a lovely opportunity for children who play and practise hard to showcase their talents and experience performing in front of a large audience. Our choir also sings, with some of our choristers performing solo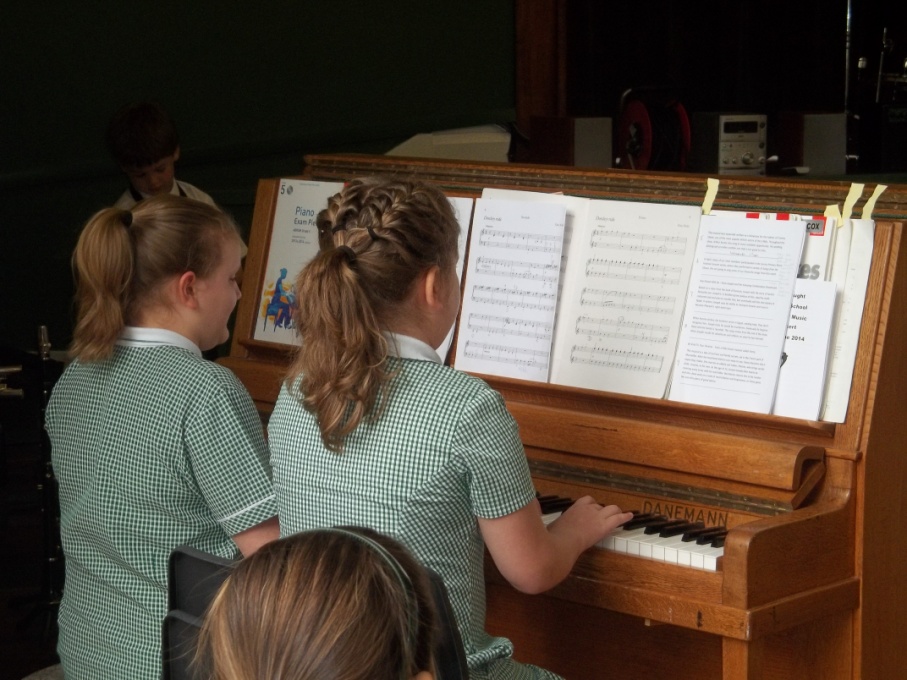 A piano duet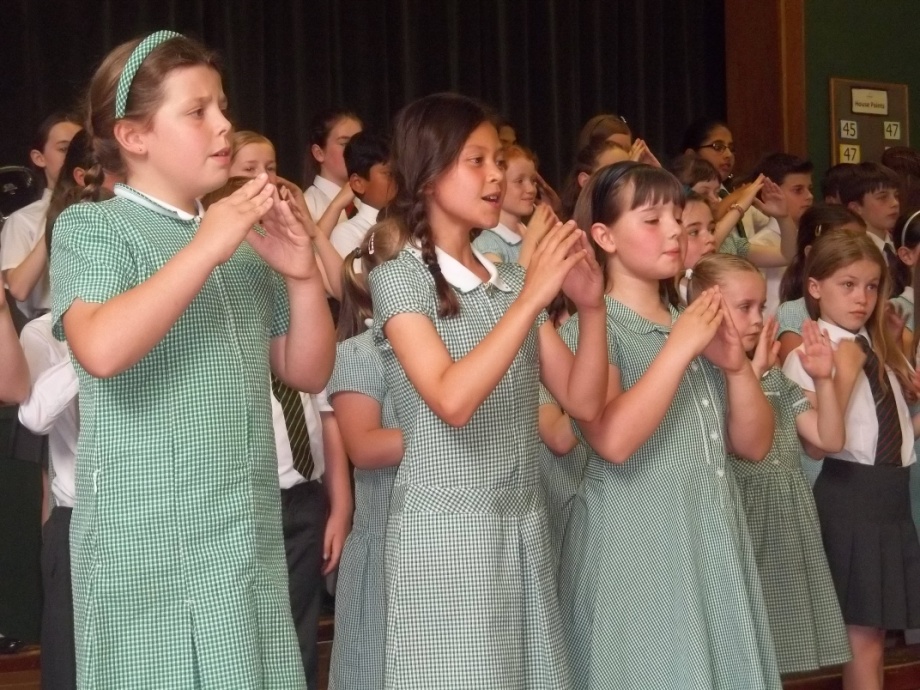 The choir performing at the Summer Concert