French
French at Connaught Junior School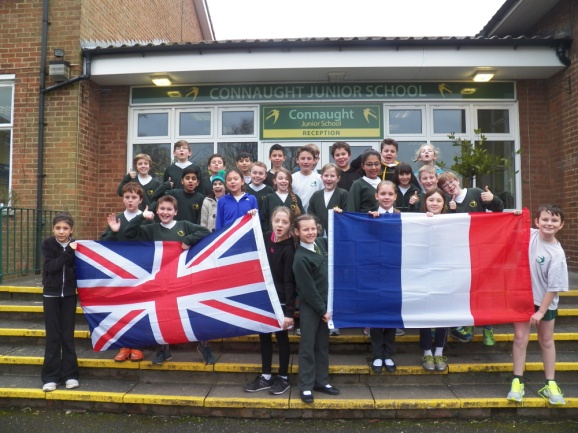 In the modern world it is important that our children are equipped for their future as global citizens. As such, being proficient in at least one other language will open up opportunities for them in the near and distant future. Our children are very lucky to be taught by a French specialist as part of our specialist weekly provision of French, Music and PE for all year groups.
The topics covered can be seen below:
French Curriculum
Year 3
Autumn Term
Unit 1 – Bonjour!
Greetings, basic nouns, numbers 1-10
Unit 2 – En classe
Classroom objects, colours, classroom instructions
Spring Term
Unit 3 – Mon corps
Parts of the body, character description, days of the week
Unit 4 – Les animaux
Animal names, numbers 11-20, further character description
Summer Term
Unit 5 – Ma famille
Family members, household items, the French alphabet
Unit 6 – Bon anniversaire!
Snacks, opinions about food, birthdays, numbers 21-31
Year 4
Autumn Term
Unit 7 – Encore!
Describing people, nationalities and personality traits
Unit 8 – Quelle heure est – il?
Activities, telling the time
Spring Term
Unit 9 – Les fêtes
Presents and festivals, numbers 31-60, instructions
Unit 10 – Où vas tu?
Directions, weather
Summer Term
Unit 11 – On mange!
Shopping for food, further opinions about food
Unit 12 – Le cirque
Francophone countries, languages, clothing
Year 5
Autumn Term
Unit 13 – Salut, Gustave!
Personal information, siblings, negating sentences
Unit 14 – A l'école
School subjects, likes and dislikes
Spring Term
Unit 15 – La nourriture
Healthy food choices, asking and directing in the polite form
Unit 16 – En ville
Town buildings, further directions
Summer Term
Unit 17 - En vacances
Holidays, expressing holiday plans and opinions
Unit 18 – Chez moi
Rooms in a house, description and activity
Year 6
Autumn Term
Unit 19 - Le weekend
Regular activities and interests, likes and dislikes
Unit 20 – Les vêtements
Items of clothing, opinions, prices, numbers 60-80
Spring Term:
Unit 21 –Ma journeé
Breakfast, daily routines
Unit 22 – Les transport
Forms of transport, plans for a trip, buying a ticket
Summer Term:
Unit 23 – Le sport
Sports, opinions with reasons, discussing a sporting event
Unit 24 – On va faire la fête!
Order food in a café, future tense