English
'Children should be taught to write and speak fluently so that they can communicate their ideas and emotions to others and, through their reading and listening, others can communicate with them. Through reading in particular, pupils have a chance to develop culturally, emotionally, intellectually, socially and spiritually.'

(DfE New Curriculum document 2013)
Through our curriculum at Connaught, children are enabled to express themselves creatively and imaginatively whether they are immersed in reading, composing written texts or engaging in oral debates and presentations.
Reading
Reading
At Connaught, we envisage that all children will express a love for reading and read for pleasure. Our main priority is for children to enjoy reading so they can not only widen their knowledge, vocabulary and sentence structure but also read for pleasure.
The children will acquire high levels of engagement in reading by participating in daily reading with an adult at home and recording this in their homework diary. They will obtain access to classic and modern literature through their use of our innovative library space. Children will participate in daily ERIC (Everybody Reads in Class) sessions which facilitate the development of key reading skills. Children will regularly take part in 'reading' activities such as: drop and read, book clubs, listening to and recording pod casts, being read to daily by an adult, paired reading, analysing books, listening to authors read in assemblies, staff sharing their thoughts about reading, corridor libraries, authors of the term and always having access to high quality texts.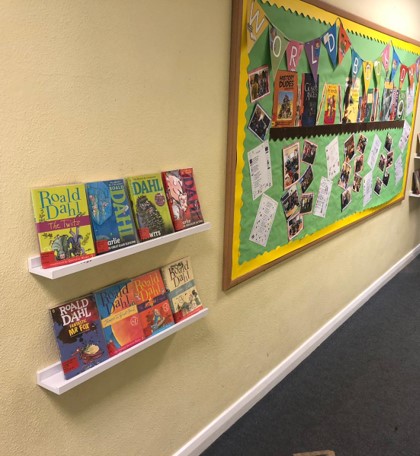 The impact of these strategies will ensure children will develop a 'love of reading' and ensure they leave Connaught with the ability to decipher significant meaning from a text through their use of deduction and inference skills.
The English team are working hard to promote reading in school through a range of different ways. These include:
creating corridor libraries where the children can be exposed to books when they move around the school;
displaying quotes of books around the school encouraging the children to read the book that the quote has come form;
covers of books are displayed all around the school so children can be encouraged to see a book and then read it; c
characters from books have been drawn and displayed around the school;
children 'drop and read' at various points throughout the week which encourages children to find the most comfortable way they like to read;
weekly assemblies where they are read to;
promoting an author of the term;
children are read to every day by their teacher;
inviting book corner in each classroom;
time in class to talk about books they have read and recommending books to each other;
podcasts whereby children talk about books they have read;
poetry is read to them each week during as assembly;
ERIC (Everyone Reading in Class)
Our timetable prioritises daily ERIC sessions in which all the children have the opportunity to access and analyse a quality text from start to finish; for these sessions, books are selected at a higher level than might be read independently to provide appropriate challenge and engagement. Skills are developed through a structured cycle:
Objective-led questioning, e.g. exploring the difference between fact and opinion, or predicting what will happen next.
Immersion activities, e.g. drama, hot-seating.
Assessment-style questions.
Support
Where necessary, specific phonics support is offered to develop children's reading skills through the use of interventions such as Read, Write Inc and the online Lexia programme.
Those children who require a more structured approach to reading have access to the Book Banded books to help them to continue to grow in confidence as readers with a text that is appropriate for their age group.
Reading at Home:
Children choose library books or their own texts to take home and read; they are encouraged to record their own thoughts and opinions about the books in their homework diary.
Suggested Reading List for Year 3
Suggested Reading List for Year 4
Suggested Reading List for Year 5
Suggested Reading List for Year 6
These lists are intended to be a guide to books suitable for children in Key Stage 2. Covering a range of genres, the lists are drawn from a number of sources including teachers own recommendations; suggestions by respected authors; reading lists suggested by other schools and the National Literacy Trust's website.
Some of the texts are more difficult to read than others and care should be taken when choosing those which your child might enjoy. Try the 'Five Finger Test' – open the book at random and ask your child to read aloud, holding out a finger for each word they do not know or cannot pronounce. Just one finger and the book is probably too easy; two or three fingers is an appropriate level; four might be too challenging and perhaps a book to read with an adult; five fingers suggests this is a book to leave until they are a little older.
For more information on how to support your child's reading, please read the following documents:
Activities When Hearing Readers
Writing
The children are given frequent opportunities in school to write in different contexts and for a variety of audiences, using quality texts as a model. An increasing shift towards a wholly cross curricular approach means that the children's writing always has purpose, such as creating promotional material for their own travel agency or writing to the government about environmental issues: this results in deeper engagement and motivation.
Opportunities to 'jump start' writing are regularly provided through carefully planned drama, role play, hot seating and film clips. Children may be asked to produce their writing on their own or as part of group; they are also given the opportunity to use ICT for their writing.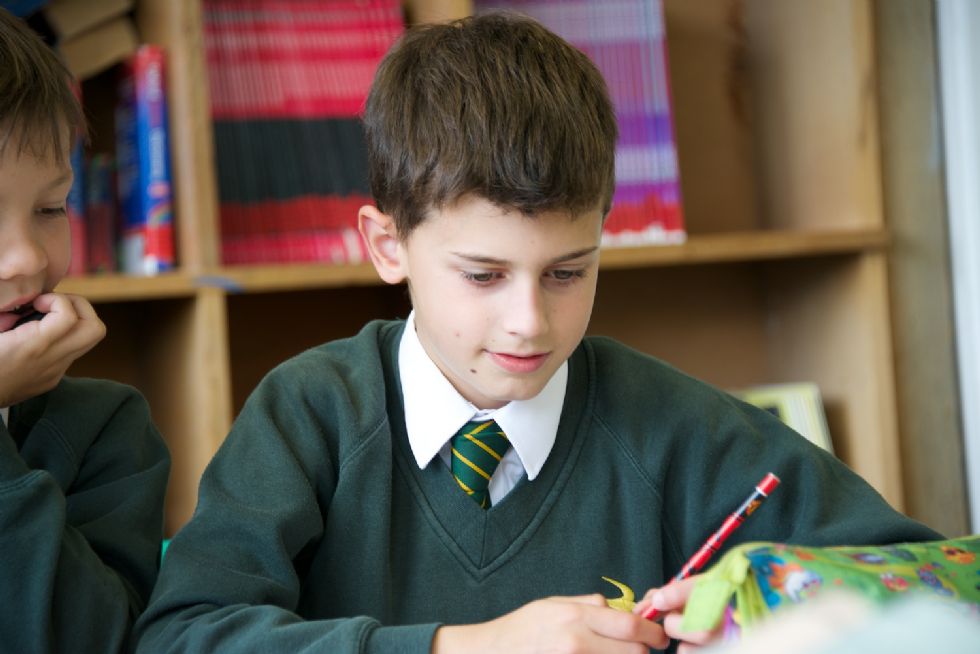 SPaG (spelling, punctuation and grammar) knowledge drives the writing curriculum, allowing children to choose appropriate vocabulary and grammatical structures and thus enhance the impact of their writing on the reader. There is a clear progression of skills from Year 3 to Year 6 and these are reflected in 'non-negotiables' that the children have as a constant point of reference.
Please find below some further documents which may help you to support your child with their writing:
Spelling, Punctuation and Grammar: Parent Workshop
Here are some examples of the childrens writing: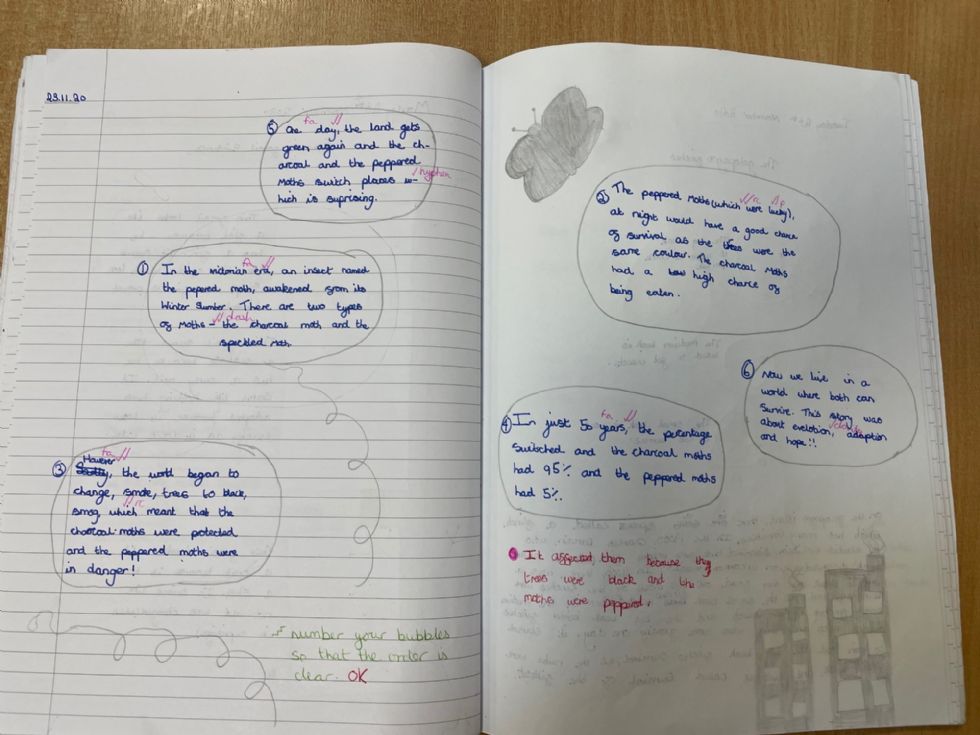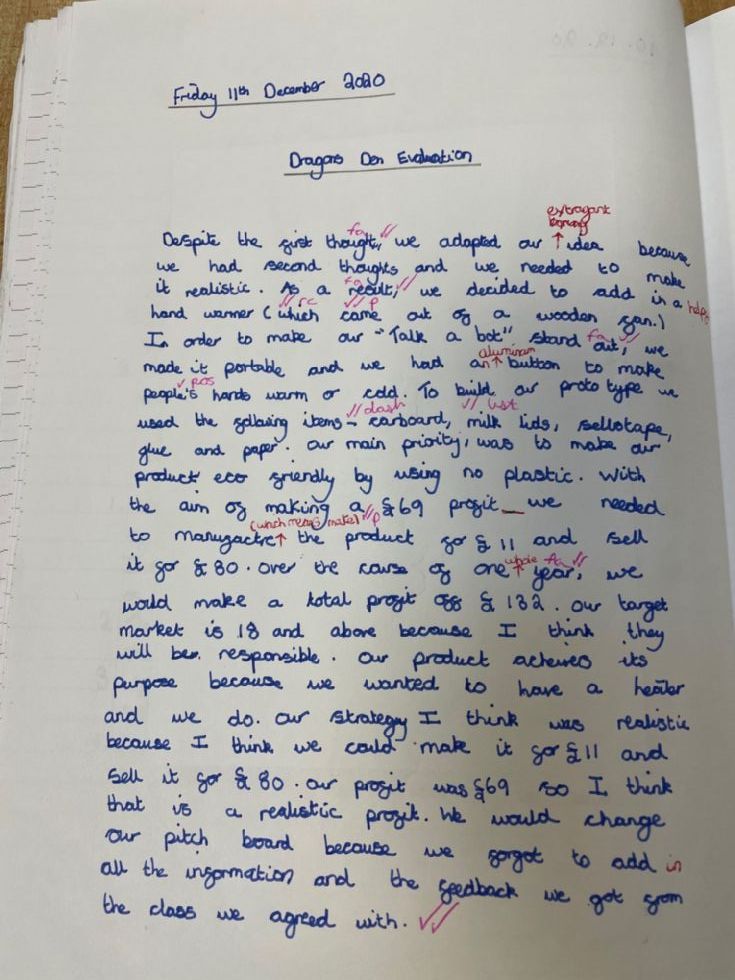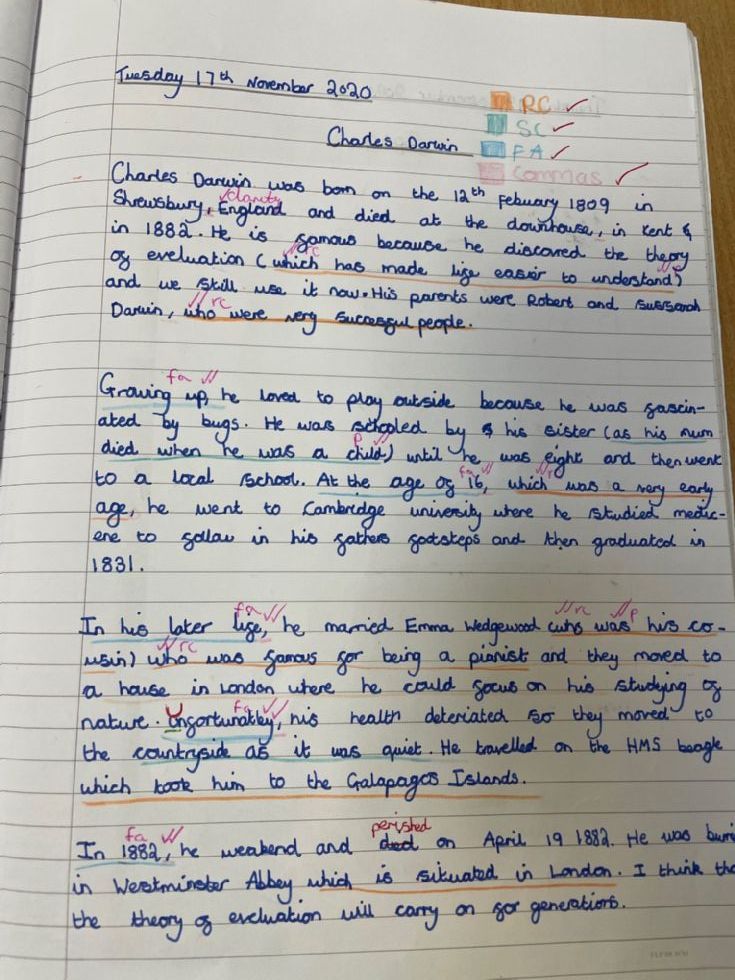 Spoken Language
Speaking and listening skills are vital in all learning and social situations. We encourage our pupils to speak clearly and articulate their views and opinions by encountering a range of situations, activities and audiences, which are designed to develop confidence and competence.
Our children have many opportunities to hone these skills through active participation in a range of different activities, such as:
Bi-annual class talks, independently prepared and presented to peers
Class debates
Circle Time in PSHE
Drama activities
School council meetings
End of term Topic Celebrations
School productions
Homework
Children are expected to read aloud at home at least five times per week, making a reflective comment about they have read in their homework diary. Parents are required to sign the reading record and this is then monitored by the teacher. It is important to hear your child read and ask them questions about the text to ensure they comprehend what they have read. (See the link above under 'Reading' for suggested questions). There will usually be a SPAG focus area linked to home reading.
Children should practise their spellings each week; they are given weekly spellings from the National Curriculum Spellings lists, as well as half-termly spellings which can be found in their homework diary.