Computing
'A high-quality computing education equips pupils to use computational thinking and creativity to understand and change the world.'

National Curriculum 2014
Our Vision
At Connaught Junior School, we believe that children should be prepared for life in the digital age through the teaching of a strong computing curriculum. We achieve this by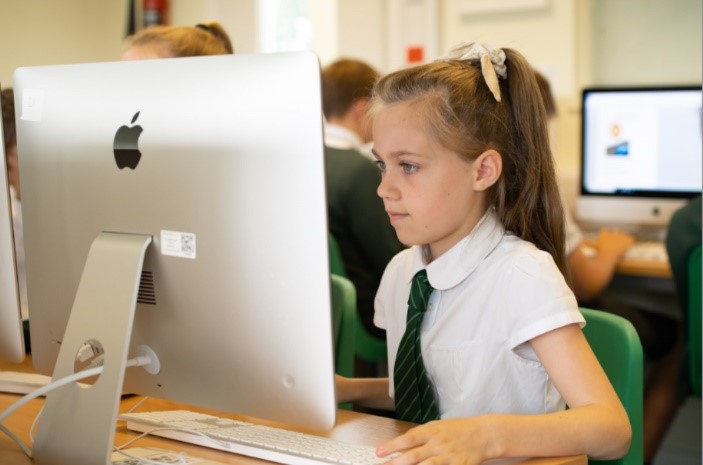 teaching coding skills across a variety of platforms; teaching children to understand how networks and the internet function; and by using a broad range of technologies for a variety of purposes. This is underpinned by the rigorous teaching of online safety to ensure that children are able to engage appropriately with the internet in and out of school. As a result, our children gain skills that can be applied across different technologies and are confident in using them safely inside and beyond the classroom.
Technology in the Classrooms
Every classroom at Connaught has an interactive whiteboard that is heavily used to support the delivery of all lessons. All teachers are given a laptop and an iPad when they start at the school. The slides or pages on the interactive whiteboard guide the children through the lessons and can be controlled using the laptop, the children themselves, or remotely using an Ipad. This prevents the teacher having to teach from the front of the class and allows them to support the children in small groups or one to one, whilst having full control of the board from anywhere in the room. There are also PCs and laptops in every classroom for use by the children and support staff.
In our school library, technology is used by the children to sign books in and out using Junior Librarian. This program and the accompanying hardware allows children to scan books and not only keeps a record of what they have borrowed, but also gives them suggested reading material and the opportunity to type up book reviews.
Curriculum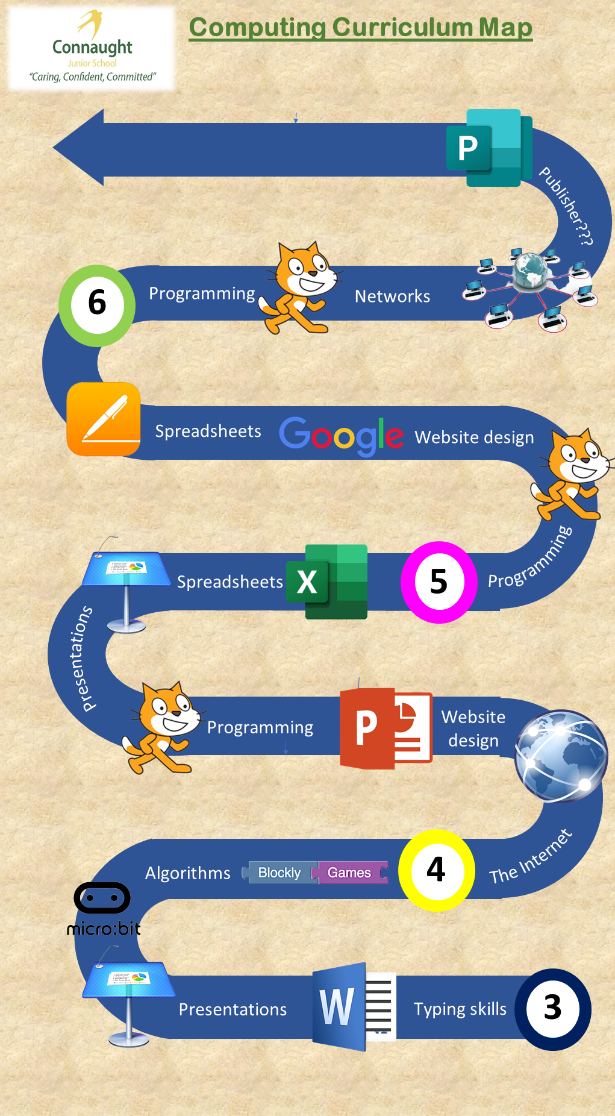 We offer an exciting curriculum that encompasses many areas of technology and is able to engage and challenge our learners.
Through the use of our Apple Mac suite - containing desktop computers that can be used for both Windows and Mac software - we are able to teach children different information technology skills that can then be applied to a range of software. We aim to engage our learners by using technology for many purposes, from learning to copy and paste images in presentations using Apple's Keynote to learning website design skills in Google Sites.
Mobile Technology
We are lucky enough to have 60 iPads in school that are well-used by the children for topic research, presentations, coding, digital artwork, photography and much more! As they are used so much, there are always plans to purchase more.
Coding
Through the use of a number of platforms, including micro:bit and Scratch, we are able to teach computer science skills in a way that challenges and engages all learners. We ensure that children have a solid understanding of algorithms and that they are able to use logical reasoning and problem solving to write and debug programs.
'Everyone should learn how to code, it teaches you how to think.' Steve Jobs
Planning Ahead
At Connaught, we are always scanning the horizon for the next opportunity to give our children the best learning experiences. We are currently discussing the purchase of a class set of VR Headsets! We believe that this will give our children a truly immersive learning experience. Wtach this space!
Online Safety
We take online safety extremely seriously and understand that high quality online safety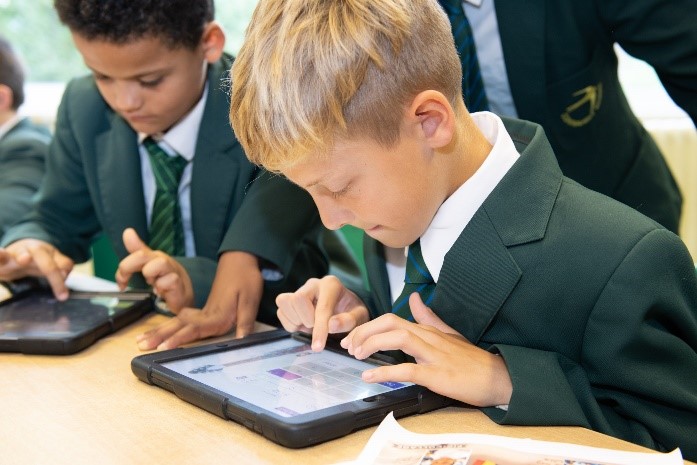 lessons are essential in ensuring the wellbeing of our children, in and out of school. Online Safety is taught once a half term through the use of expert created schemes such as the SMART crew, Google's Be Internet Legends and ThinkUKnow's Band Runner. In the ever-changing world of online gaming and social media, we know that it is vital to teach children about technology that is relevant to them and meets their online needs.
Children's Quotes
"I find our online safety lessons help us talk through different scenarios and what things we may encounter online."
"I love using the different programmes in the ICT suite. Scratch and Turtle Art are definitely my favourite because I can be really creative."
"The amount of equipment we have is incredible. We are so lucky as most schools don't have the privilege to have both iPads and iMac desktop computers."
Websites
Here are a selection of the best computing and online safety websites that might be of interest to you:
Computing
https://scratch.mit.edu/ - Scratch is the main website used for KS2 children to make programs using block language.
http://www.bbc.co.uk/education/subjects/zvnrq6f - This BBC page offers a wealth of information on different areas of the computing curriculum.
Online Safety
http://www.thinkuknow.co.uk/8_10/ - ThinkUKnow is the educational programme from NCA-CEOP, containing activities and videos for children as well as information for parents.
http://www.childnet.com/resources/the-adventures-of-kara-winston-and-the-smart-crew - With the help of the characters Kara and Winston, the SMART crew help children learn how to safety navigate the online world.
https://nationalonlinesafety.com/guides - National Online Safety have produced a number of guides for different platforms, games and sites that aim to help parents better understand how their child uses the internet.
https://www.net-aware.org.uk/ - NetAware is a branch of the NSPCC that offers concise information on the commonly used websites and platforms of our children.